Adam O'Neill
Marketing Manager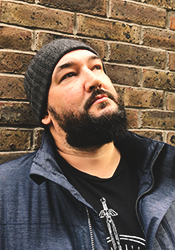 A survivor of the untamed bushland of rural Australia, Adam escaped for the safety of Sydney the day after he graduated high school—a date that happened to coincide with his eighteenth birthday. As so many young people do, however, he fell in with a rough crowd: a sword-wielding, armour-wearing, pipe-smoking gang of medieval battle re-enactors. Soon after he met his wife, Chana, he lost the armour but kept the pipe.
Fast forward a decade and Adam combined his love of pipes with a newfound passion, photography, which is how we found him and dragged him, kicking and screaming through customs, to South Carolina. During his three and half years with Laudisi in the US, Adam worked as a copywriter before making the transition to photography, then combined the two roles to become our first social media specialist.
Given his deep knowledge of the secrets of Smokingpipes's marketing department, not to mention his experience navigating an international move, Adam was a natural choice to lead our marketing efforts here in Europe. In addition to taking care of our marketing — including copy, site photography, and social media — Adam leads our customer service department, liaises with our US programmers, and helps out with general administration.