Débora García Rubio
Customer Service Representative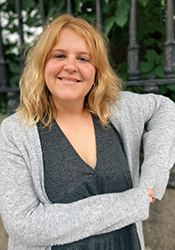 Débora García Rubio was born in Murcia, the capital of the Region of Murcia in the south-east of Spain. Since childhood she displayed a keen interest in languages, particularly English, and so naturally decided to study a degree in English Studies at the University of Murcia. When an opportunity arose to move to Ireland, she decided the possibility of sharpening her English skills via immersion was too great to pass up.

Quite the music lover, it'd be an unusual sight not to see Débora not singing or dancing to bachata around the pipe library. Outside of the office, she's not one to be found sitting at home and relaxing, preferring instead to visit with friends, go for a run, or pop into a pub for some food, an ice cold beer, and watch either Club Átletico de Madrid or Liverpool F.C. on the big screen. An avid traveller, when she's not bar hopping or socialising, she's likely planning her next trip, be it a weekend camping trip or a somewhat longer overseas vacation.

Débora's commitment to sharpening her translation skills, combined with childhood memories of pipes made her the perfect candidate for Smokingpipes Europe, and she joined the team in June of 2020. Her primary responsibility is with Spanish translations and Spanish language customer service, but in the spirit of our small team atmosphere, you'll also find her running around helping with merchandising, shipping, and English customer service.